KQRS Morning Show
Retarded peope and racists often live as outsiders in American society, both segments of the population pacified into silence by cake and
Brown vs. The Board of Education
, respectively. Thankfully for the Retarded and racist of Minnesota, every morning from 6 to 9am they can feel apart of fabric of our great country with a little help from their friends at the KQRS Morning Show.
Hosted by the controversial Tom Bernard, the KQ92 Morning Show specializes in classic rock, news, scatology, obnoxious sports talk, and woefully willfully ignorant social commentary.
If you happen to be in the Twin Cities and turn your radio to 92.5FM at 6am you will most likely hear the following:
-Tom Bernard and the gang go over the national news (usually straight from the horse's penis hole-Matt Drudge's website). Comments on how dumb liberals are, how important it is to "support the troops", how immigrants are ruining our country follow.
-Sports news. The Minnesota Vikings are usually chief among topics. Complaints about what the veteran coaches and professionally trained athletes are doing wrong.
-The Eagles' "Life in the Fast Lane"
-A couple celebrity guests call in to be interviewed and sucked up to.
-Letters from KQ listeners. The stories invariably have to do with genitalia, dirty immigrants or fecal matter, sometimes all in the same letter.
Here's an ACTUAL LETTER:
April 28th, 2004 -
"TOWEL HEADS"
"KQ-
Regarding your comments about the "Towel-Heads" using their left hand to "wipe," and right hand for everything else, they also carry around a bottle of water off their "wiping hand" when they're finished crapping in their cat-hole in the "sand box." That is why it is a "slap in their face" to extend you left hand to shake their hand instead of the right hand. I really would like to know why shoing them the bottom of your foot offends them. I have heard that is equal to flipping them off.
Erik"
An executive from Morgan Quitno Polling Center listening to the show and hearing this letter read on his car radio immediately moves Minnesota in the "Smartest State" poll from 12th to 47th. (Behind Alabama!)
-Local news. Apparently, Minneapolis' Somali, Hmong and Hispanic population are stupid and lazy.
-Bob Seger's "Down on Main Street"
-Minnesota Governor Tim Pawlenty, a rare example of the species
"Grown Elf" (see below.)
calls in to joke with the crew, who fawn on him like he's Abraham Lincoln. After hanging up the phone, the Governor hobbles back to the Governor's mansion in Galadriel to mix night potions.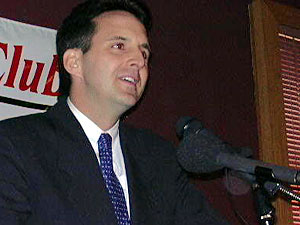 -Boston-"More Than a Feeling"
It should be noted that it is only 8:40am and the Morning Show lasts another half an hour. You have already been reported missing by your family. Thankfully, your body will be found before any profound decay has taken place. The Hennepin County police who find you dead next to your radio note the dried blood around your ears.
------------------------------------------------------------------------------------------------
The KQ Morning Show is a favorite among suburban and conservative Minnesotans. These are not the Northern Minnesotan sweet-natured "Fargo" crowd; this is the sports-lovin', hard-workin', straight-talkin', sex-obsessin', shit story-tellin', hard-drinkin', Minnesotan crowd. Some of the typical Morning Show fans can be seen in photos of the Annual Las Vegas trip (where fans join the hosts for some live morning hi-jinx)
here
Since you've decided not to click on the link (you are a smart boy or girl!), here's a couple for your enjoyment:
Yes, my friends. The typical male KQRS Morning Show listener trades hard-earned monetary capital for a t-shirt that demands immigrants learn English. My first question apon meeting this gentleman would have to be: "Why do you care?". I just sort of doubt he finds a lot of non-English speakers at the White Bear Lake autoshop where he works. I'm guessing it has to do more with the fact that he is a horribly ignorant and hateful bigot who beats the shit out of his kids.
Here we have some female fans of the Morning Show. To be a devoted listener with an X chromosome requires some work. First of all, you must allow yourself to not be taken seriously. Second of all, you must look like a homely Dental Hygenist.
The woman on the left is a famous fan of KQ, and Native American. She's known as, and this is not a cynical or sarcastic joke on my dickish part, "Feathers not Dots". Get it? She's a Native American Indian and not an Asian Indian! To be non-white and a KQ fan requires willed self-hatred.
-----------------------------------------------------------------------------------------------
No thesis on the KQRS Morning Show would be complete without closer examination of actual members of the Morning Show Crew:
Terri Traen
A blonde 40 something with a peckish but sweet nature, Terri is often singled out for her vagina and breasts. Despite her "female" status, she follows the boys whatever darkened alley or rusty train track their dirt bikes lead, an eternal neighborhood girl who craves male attention and domination underneath a strong exterior.
Phil "Philly Dawg" Wise
Phil Wise is a former football player who plays the token black man. Laid back and amiable, he is nicknamed "Philly Dawg" and is the go to man for the white men on the show when queries of correct usage of urban negroid slang arise.
Mike "Stretch" Gelfand
Mike Gelfand, nicknamed "Stretch" is a nasal voiced middle ager acting as a more articulate, liberal foil to Tom and the boys. Because of his status as an intelligent, liberal jew, he is often made fun of as being homosexual. When confronted with this playful but dark teasing, he laughs uncomfortably and hides under the desk to lick Tom Bernard's dirty Reeboks.
Bryce
Bryce is an enigma. Rarely vocal, he is the "sound guy" for the Morning Show. His job as "sound guy" means that during discussions about shit he plays farting sounds, and during discussions about sex he hits a worn out button that triggers that 300 year old clip of Austin Powers saying "Yeahh baby, yeahhhh!".
Perhaps his silence is evident of a inner wisdom and strength, but most likely he's a gigantic moron like everyone else on the show. Perhaps you already knew that from seeing the picture of him above (taken with porn star and Morning Show guest Brittany Andrews). He appears to be wasting away from severe anemia and advanced Crohn's Disease.
Tom Barnard
Tom Bernard is the host of the Morning Show. Loud-mouthed, obscene and unabashedly conservative, he is also a noted recluse. A millionaire from a lucrative voice-work career, he turns down all interviews, rarely appears with the crew at sponsered events. Bernard spends his days sitting behind a microphone only taking breaths to chew on a meatball hoagie. Every morning at 9:05 when the Show ends he promptly escapes in a specially modified underground tube system that sends him straight to his mansion basement in Maple Grove, Minnesota. This way, he avoids the throng of Hmong protesters assembled outside the studios demanding an apology for his use of "Me SO SOREEEEEE" while reading a story of a local gun-downed child from Laos. Also, the tube system affords him the luxury of not moving, always a must-have for crimnally fat man such as himself. Unlike most famous recluses such as Thomas Pynchon, J.D. Salinger and Prince, Tom Bernard has no discernable talent.
------------------------------------------------------------------------------------------------
The KQRS Morning Show is the most popular radio talk show in Minnesota. I should note that I have have never listened to it by choice, but rather because KQRS is the only station that works on my Alarm Clock. All throughout high school and my first year of college I'd be awakened at 6:45 by the "Toxic Crew" (or whatever the fuck they're nicknamed). Like a reminder of the drudgery of my life, as well as the ignorance of mankind and specifically the American public, the Morning Show served as a boatman's call for all that I regard base and wrong. Indeed, Tom Barnard and the fans that call in and write to the heroes of their shameful, absurd and cosmically stupid lives have all indirectly inspired an acceptence of the neccessity of suicide as an option more eloquently than Arthur Schopenhauer.
But I will live and turn it off and go on. The problem is, they will live too and continue to give my state a bad name.
In conclusion, I am not as fat as Tom Bernard. This fact warms my heart and eases my aching mind.