Recommended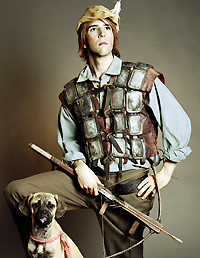 I show up late to most parties I attend. If you are lucky enough to have found this magical little journal, or better yet, you actually have the pleasure to be one of the 78 or 79 people who know me, you also know that I am not invited to many parties. If, being one of those people who know me, you have no idea why I am not invited to many parties there is simply one conclusion I can draw: you are lying, and in fact, do not actually know me. Most likely, you are one of the many who have confused me with
English theater director Patrick Swanson
. It is easy to confuse us. Both of us are named Patrick Swanson, and I also once directed
Fighting Over Beverly
by Israel Horowitz (at the Young Vic). Unlike Mr. Swanson, I managed to cause a furor when, during an interview with
Theatre Pulse!
, I referred to the playwright of
Beverly
as "that Jew with the Jewy name."
Anyhoosiers, I'm always the last to hear about the new hip music that the kids seem to like. When I heard about indie chamber-pop multi-instrumentalist quirkwizard Owen Pallett, who records under the moniker Final Fantasy, I immediately was an admirer. He's most famous for his string arrangements for the Arcade Fire, but his dissapointingly-titled "He Poos Clouds" blows that much-lauded band's work away. It's surely the best (and certainly the most original) new album I've heard all year.
Though he has gained most attention for his video-game referencing lyrics and his homosexuality, his music is assured and refined to an astonishing degree. The arrangements are the work of someone with a lot of training, and the melodic and harmonic material is masterful. What's more-he's a very talented string player.
Some critics often praise "pop" musicians who write intelligent music that isn't "classical" with the air of a condescending teacher giving a bite-size Snickers to a child who learns how to spell. It's a shame, as Pallett's songs are really quite special.
This
New York Times piece on Final Fantasy labels him as a sort of Indie hip post-modern weirdo, and I guess he is if you feel he is. To me, he seems like a smart and sweet guy with real talent for song-writing who makes darn good music. I hear without borders, my mind is open to all ideas, blah blah blah.
"He Poos Clouds" now seems easier to find in CD stores after it won the Polaris Prize but buy it off
his website
so you can give Pallett some money. If you want to hear what you are getting (in which case you are saying you don't trust me, and I'm very, very hurt) download "This Lamb Sells Condos": a bittersweet little ragtime about death that I have yet to get out of my head since I heard it months ago. Check the lyrics
here
. They are very funny and very smart.
In case you were wondering-the other song I can't get out of my head? Ready For the World's "Oh Sheila" which I have had in my head for about 9 years.